Device Installer will search the local network for an X-Port based device. There are several common causes to look for if the device you are searching for is not found on the network.
Wrong Subnet: Make sure Serial/Ethernet converter has an IP address in the same subnet as the PC you are using. If you know the IP address of the converter, you can change the PC to match that subnet and search again. (Do not choose the same IP address for both.) Once you are able to enter the device settings, you can change the IP of both the converter and PC back to the desired network.
If the IP address appears in the list in red, it means the unit has been found but the IP address is outside of the subnet of the PC. In that situation you can select the device from the list and choose "Assign IP". This will allow you to change the IP address to match your network so you can access the settings. It is recommended that you still set the IP address from within the device settings after gaining access to the configuration.
Network Options: Check and make sure Device Installer is searching the correct network. Select "Options" and click the Network tab. It should show of the available local connections. Make sure you are searching on the network where the converter is connected.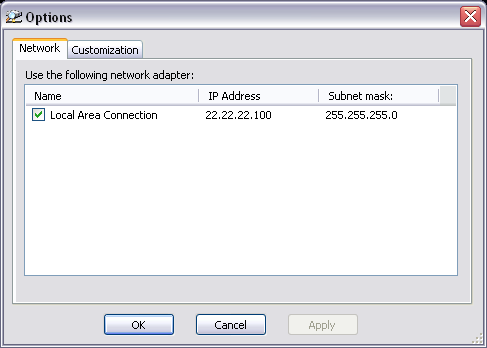 No DHCP: Many of the NetXXX devices will be set to obtain an IP through DHCP as the default. If the device is powered on before it is connected to the network it will obtain an IP address in the Auto IP range and appear lost. Make sure the Ethernet cable is connected before powering on the unit.
If there is no DHCP server and the unit obtains an Auto IP address, then you will need to change the IP address of the PC to the range of 169.254.x.x with a subnet mask of 255.255.0.0 and search again. When the device is located you can assign a static IP.
Update: Download the most recent version of Device Installer.